Pada blog WordPress self hosted, pasti kita alami ketika kita menginstall engine WordPress secara manual (upload via ftp), akun admin dan random password tercipta secara otomatis. Selanjutnya, biasanya kita tinggal login dan mengganti password admin tadi, atau bisa juga kita membuat akun baru. Setelah itu baru kita mulai blogging ria.
Menyisakan akun admin berarti kita memberi satu langkah meloloskan diri bagi para hacker untuk menerobos blog kita. Mengapa? berarti di sini cracker bisa melihat adanya satu akun bernama "admin" dengan akses administrator. Mereka tidak perlu repot-repot lagi untuk mencari nama akun yang digunakan, dan selanjutnya tinggal menggunakan teknik brute-force untuk mendapatkan password "admin".
Jadi, baiknya akun admin dihapus. Bloggingly memberikan tips bagaimana menghapus akun admin dari sistem dengan mengakses database mesin blog kita via PHPmyadmin. Agak-agak ribet dan mungkin riskan bagi orang yang awam seperti saya. Kesalahan dalam mengutak-atik SQL (database) dapat berbuntut pada tidak bisa dibukanya blog.
Ada cara lain yang ternyata cukup aman (via control panel WordPress sendiri). Sebelum menghapus akun admin, baiknya kita membuat user baru dengan role administrator.
1. isi field username, email, dan password
2. Ganti role ke "Administrator"
3.Klik "Add user"
Okeh, dari sini jangan terburu-buru langsung menghapus akun admin karena tidak akan bisa. Mengapa? karena kita sedang login dengan akun tersebut kan? (logikanya sama dengan menghapus file word yang sedang dibuka, pasti gak bakalan bisa) Lanjutkan dengan logout dari WordPress dan login kembali dengan akun yang telah kita buat tadi.
Pilih Author & User pada tab Users.
1. Klik delete pada pulldown menu (karena kita ingin menghapus)
2. beri cek list pada akun admin (karena akun ini yang akan kita hapus)
3. Klik tombol "Apply" untuk menerapkannya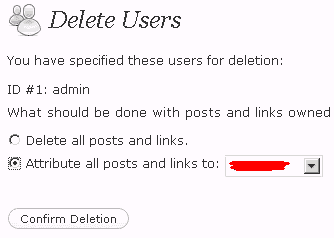 Jangan pilih "Delete all post and links" karena akan menghapus semua postingan kita terdahulu yang dibuat dengan akun admin. Pilih "Attribute all post and link to:" nama user baru yang telah kita buat tadi. Setelah itu klik "confirm deletion" untuk menerapkannya.
Jika berhasil, akan muncul pemberitahuan bahwa user telah dihapus dan menyisakan satu akun yang telah kita buat tadi. Untuk selanjutnya, kita login dengan akun yang kita buat tadi. Semua postingan terdahulu yang di post oleh admin telah berubah attributnya jadi diposting oleh akun baru.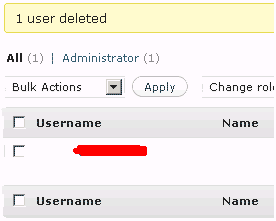 and once again, nubie save the day
Advertisement
Share this post